Banks Are Offering Cash Bonuses To New Customers
Banks are constantly offering amazing incentives to new customers, especially now that more and more people are switching to online banking. With a quick search, you can turn up offers of cash, savings, gift cards, and other great bonuses for signing up.
You don't have to move all of your business over to a new bank to take advantage of them, either.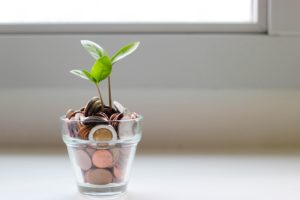 Often, getting a juicy payout requires no more than opening a savings account or applying for a new credit card.
Don't feel left out if you're an existing customer. Your bank will often have an offer on hand if you sign up for a new product or service like a line of credit or a TFSA. Online banks often have the biggest deals and offers for both new and existing customers.
Why You Should Be Banking Online
If you don't bank online yet, you should start. Next-generation online banking platforms are fast, easy to use, and as secure as any brick and mortar bank out there. Best of all, they pass the savings of not having a physical office space onto you.
Solid options for online banks include Tangerine, Ally, American Express, CIT, and Discover Bank. These are all subsidies of major banking and credit companies so you can bank with the same confidence as you would at a regular bank. They are also currently offering major incentives and bonuses to new clients, making now the best time to sign up for online banking.
Banks That Are Offering New Account Bonuses in 2020
Chase Premier Plus Checking – $300 Bonus
Chase bank is currently offering one of the easiest new account bonuses out there. Simply open a new Chase Premier Plus Checking account by October 14, 2020, and have a direct deposit of any amount made to the account within 60 days. Qualifying direct deposits can include your regular salary, pension, Social Security, or other income. After 60 days, expect that $300 to show up in your account automatically.
The only thing to know for this one is that the account has a monthly fee of $25, but this is waived if you keep a minimum balance of at least $15,000 between all of your Chase accounts. So if you're already an existing customer of Chase bank with that much in your accounts, this is an especially great offer to take them up on.
HSBC Premier Checking – $450 Welcome Offer
There's a $450 Welcome Deposit waiting for customers who open a new HSBC Premier checking account and complete the following:
Open your new HSBC Premier checking account online by September 30, 2020.
Receive monthly direct deposits totaling at least $5,000 to your new HSBC Premier checking account for 3 months. Qualifying direct deposits can include your regular salary, pension, Social Security, or other income.
The $450 Welcome Deposit will show up automatically in your new HSBC Premier checking account 8 weeks later. It's that simple.
Discover Cashback Checking — Up To $360 Annually
Cashback programs are one of the easiest ways to make money back from your bank. For this one, all you have to do is open a new Discover account, deposit any amount, and start using your debit card. Discover gives you 1% cashback on all purchases up to $3000 per month. That's a maximum of $36,000 per year, which means you could receive $360 right in your account at the end of the year. There's no reason not to take advantage of an offer like this one.
Wells Fargo Everyday Checking – $400 Cash Bonus
Open a new Wells Fargo Everyday Checking account online and you could qualify for a cash bonus of $400. All you have to do is open a new checking account and make a minimum required opening deposit of $25. Within 90 days, make sure to receive a minimum of $4,000 in direct deposits. Qualifying direct deposits can include your regular salary payments, pension, Social Security, or other income. After the 90-day qualifying period, you'll receive a $400 cash bonus in your account. So easy!
Since this offer is only available in participating areas, check your eligibility by searching your ZIP code on the promotions page.
Citibank – $700 Cash Bonus
Open new checking and savings account with Citibank and you could earn an incredible $700 cash bonus. In order to qualify, you have to meet the following requirements:
Open a new eligible checking and savings accounts in the Citi Priority Account Package during the offer period.
Deposit $50,000 or more in funds in the new checking and savings accounts within 30 days of account opening.
Keep a minimum balance of $50,000 between the two accounts for 60 consecutive calendar days thereafter.
After completing all qualifying activities, you'll receive the $700 bonus in your account within 90 calendar days. Sign up soon though—this offer is only available for a limited time.
Citizens Bank – $1,000 Bonus For College Savings
This is a terrific offer for parents who care about their kid's future. Sign up for a CollegeSaver account with Citizens Bank before your child turns 12 and not only will you be setting them up for tuition time, but you'll get a $1,000 bonus when they turn 18. The CollegeSaver account is an easy, no-fuss savings account for you to start saving toward your kid's college or university tuition. It earns interest and if you make a minimum monthly deposit, you'll not only get the interest but the $1,000 bonus as well. The earlier you open this account, the better.
This offer is only available in states where Citizens Bank has a physical presence, mostly in the northeastern U.S. Check Citizens Bank's website for availability and other restrictions.
Find The Best Bank Bonus Offer Near You Today
Savvy customers are always on the lookout for these deals. Banks are rich—why shouldn't some of the cash come to you? Find out what bank offers are available now by using the search field below.
---
---
Dear reader,
It's true what they say: money makes the world go round. In order to succeed in this life, you need to have a good grasp of key financial concepts. That's where Moneymade comes in. Our mission is to provide you with the best financial advice and information to help you navigate this ever-changing world. Sometimes, generating wealth just requires common sense. Don't max out your credit card if you can't afford the interest payments. Don't overspend on Christmas shopping. When ordering gifts on Amazon, make sure you factor in taxes and shipping costs. If you need a new car, consider a model that's easy to repair instead of an expensive BMW or Mercedes. Sometimes you dream vacation to Hawaii or the Bahamas just isn't in the budget, but there may be more affordable all-inclusive hotels if you know where to look.
Looking for a new home? Make sure you get a mortgage rate that works for you. That means understanding the difference between fixed and variable interest rates. Whether you're looking to learn how to make money, save money, or invest your money, our well-researched and insightful content will set you on the path to financial success. Passionate about mortgage rates, real estate, investing, saving, or anything money-related? Looking to learn how to generate wealth? Improve your life today with Moneymade. If you have any feedback for the MoneyMade team, please reach out to [email protected]. Thanks for your help!
Warmest regards,
The Moneymade team