Star Wars Galactic Starcruiser: Disney's New Immersive Experience
If you've always wanted to be a part of your own epic Star Wars adventure, it looks the force is with you. Earlier this week, Disney announced the launch of Star Wars: Galactic Starcruiser. Described as a "multi-day vacation experience," the immersive hotel-slash-starship promises to be just as thrilling as the movies. According to our sources, the attraction will be ready for takeoff in 2021. Reservations open later this year.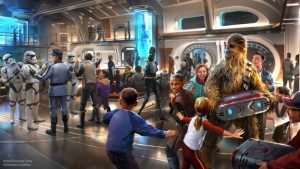 Enter a galaxy far, far away
Just when we thought Disney had managed to squeeze everything they can out of the Star Wars franchise, they come up with something even more over the top. Since Disney acquired the beloved sci-fi odyssey, they've released five movies, a television series, and scads of merch. Moreover, they haven't let the series' potential go to waste in their amusement parks. The multi-sensory Star Wars: Galaxy's Edge attraction at Disneyland California has brought a renewed wave of excited fans to the park.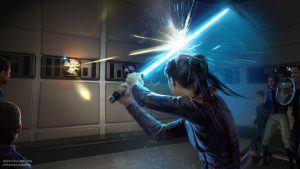 "Star Wars: Galactic Starcruiser is a completely new type of experience," says Ann Morrow Johnson, executive producer for Walt Disney Imagineering. "You're going to live onboard a star cruiser… and you can get wrapped up in the larger Star Wars story."
Passengers will board the ship via a Launch Pod and arrive at the Halcyon. There, you'll meet all of your favorite characters, like Boba Fett and Chewbacca. During the trip, you'll be as good as one of the gang yourself. Guests get to learn how to wield a lightsaber and even take the Millennium Falcon on a smuggling mission.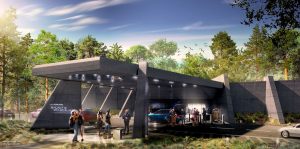 The Disney Parks Blog is encouraging fans to sign up for updates and to get first dibs on a reservation for the grand opening next year. For now, stays are limited to two days and two nights. This will accommodate what Disney executives anticipate will be a huge response. A hyperspace Star Wars fantasy that lasts 48 hours? It's every super fan's dream. You can learn more about this epic adventure by watching the trailer here.
---
---
Dear reader,
It's true what they say: money makes the world go round. In order to succeed in this life, you need to have a good grasp of key financial concepts. That's where Moneymade comes in. Our mission is to provide you with the best financial advice and information to help you navigate this ever-changing world. Sometimes, generating wealth just requires common sense. Don't max out your credit card if you can't afford the interest payments. Don't overspend on Christmas shopping. When ordering gifts on Amazon, make sure you factor in taxes and shipping costs. If you need a new car, consider a model that's easy to repair instead of an expensive BMW or Mercedes. Sometimes you dream vacation to Hawaii or the Bahamas just isn't in the budget, but there may be more affordable all-inclusive hotels if you know where to look.
Looking for a new home? Make sure you get a mortgage rate that works for you. That means understanding the difference between fixed and variable interest rates. Whether you're looking to learn how to make money, save money, or invest your money, our well-researched and insightful content will set you on the path to financial success. Passionate about mortgage rates, real estate, investing, saving, or anything money-related? Looking to learn how to generate wealth? Improve your life today with Moneymade. If you have any feedback for the MoneyMade team, please reach out to [email protected]. Thanks for your help!
Warmest regards,
The Moneymade team